Virtual Market 4
tags:
Website: https://v-market.work/v4/
Twitter: https://twitter.com/Virtual_Market_
Image Album: https://imgur.com/a/vnEDNui
Proposal: https://github.com/M3-org/research/issues/7
Vket3 write-up: https://m3-org.github.io/research/vket.html
---
Virtual Market 4 is the world's largest virtual expo. The number of exhibitors this year has grown from 600 to over 1400 in just 6 months.
The M3 group organized field trips to explore the booths, meet other creators, discuss topics like virtual economy, interoperability, content discovery, UGC, avatar culture, covid, and be inspired by what the Japanese VR community put together. Here's a VOD from one of our field trips.
Have questions, comments, or want to join the discussion? Reach out to us on discord.
---
News
---
Sponsors
Companies: https://v-market.work/v4/company
---
Worlds
Worlds list: https://www.v-market.work/v4/world/
This year there were 7 themes and 43 worlds that had 30-50 booths each.
Music Composer
https://twitter.com/ShintaroAoki
https://twitter.com/4ra8_
https://twitter.com/LMEE_uir
https://twitter.com/Ryo_Arue
https://twitter.com/AUAUA_jp
https://twitter.com/ToneVrc
Main Modeler
https://twitter.com/Banjo_Kanna
https://twitter.com/rootgentle
https://twitter.com/yoshino_alice2
https://twitter.com/otokogi_mat
https://twitter.com/0yasum13
https://twitter.com/Coquelicots_WoT
---
Default Cube
https://www.v-market.work/v4/catalog/world/16
---
To see the next booth, one interacts with a cube. Each color face is a batch of booths.
Touching one of the spheres will teleport everyone to the next booth.
---
Avatar Showcase
Article: https://www.v-market.work/article/22
https://www.v-market.work/v4/catalog/world/17
---
The avatar mall is a 3 story tall window shopping experience.
Group picture from our field trip during one of the last days of Vket4.
---
Alaya Vijnana
Catalog: https://www.v-market.work/v4/catalog/world/18
Write-up: https://www.v-market.work/article/41
---
This bridge is at the entrance of the map.

There are two large statues that move as you approach the gates.
Here's an image of many booths side by side.
Walking up to these statues and touching them triggers a chime and a red scarf appears around the neck of the statue.
In one area we walked into this small cave entrance and it took us into a trippy spiritual realm.
Walking from one end to the other takes you back out of the spirit realm and the cave entrance closes behind you.
When you find all the statues, the large gate near the entrance open. Overall this map felt very enchanting, like the world of Spirited Away.
---
Cyber City Mirabilis
https://www.v-market.work/v4/catalog/world/19
---
The entrance of Cyber City is up the stairs.
Super cool avatar that floated around, wish I could remember the persons name.
Meeting some epic gamers at the booths in the bottom levels.
---
Nursery Rhyme
https://www.v-market.work/v4/catalog/world/20
---
Nursery Rhyme was setup like Alice in Wonderland meets Willy Wonka.
This booth was designed like a crystalball with a hat.
Picture of JaredMonkey scanning a QR code with dark booth.
Part of the map was like a picture book and food land mashup.
The top floor was a sleepy mushroom wonderland.
---
World End Utopia
https://www.v-market.work/article/39
https://www.v-market.work/v4/catalog/world/21
---
---
Parareal Tokyo
Images: https://imgur.com/a/Y8Bphd7
https://www.v-market.work/v4/catalog/world/22
---
https://www.google.com/maps/place/7-Eleven/@35.6860776,139.7311838,16.54z/data=!4m5!3m4!1s0x60188c6237da9fa1:0xb9b025732699d516!8m2!3d35.6852775!4d139.733559?hl=en
---
Overlays
OVRtoolkit
Website: https://store.steampowered.com/app/1068820/OVR_Toolkit/
OVR Toolkit is a utility application designed to make viewing the desktop in VR simple and fast, it allows for viewing the desktop within VR, placing desktop windows around the world, mouse input, typing with a virtual keyboard, and quickly switching between windows.
Many folks weren't able to join us because they didn't have access to a PC. In order to accomodate those folks we overlaid the Twitch chat into the game so that we can have a closer interaction with our viewers from the livestream.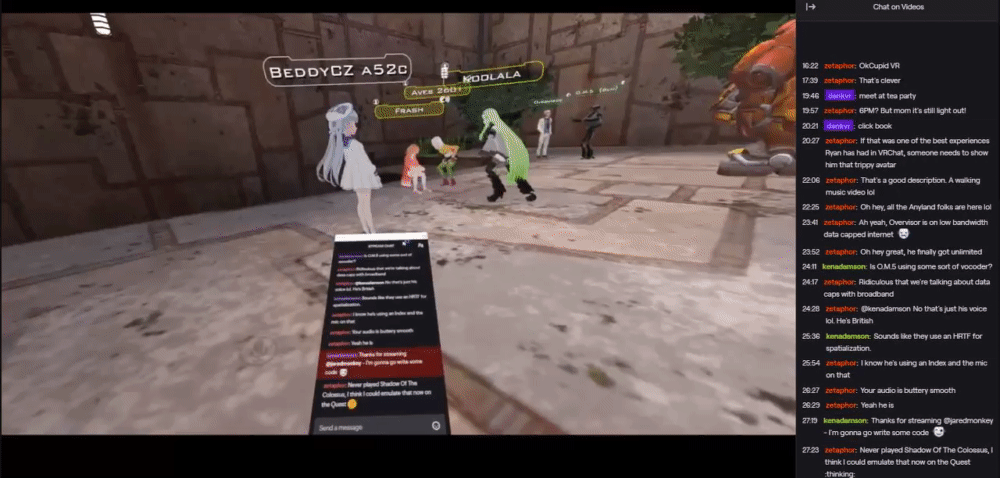 PlutoVR
Website: https://www.plutovr.com/
Pluto is a spatial computing communication service. We used it as sort of a walkie talkie network during the event to stay connected since groups sometimes get split apart. It's sort of like Skype for XR. You can learn more about how to use PlutoVR here.
VRChat only supports spatial audio which means you have to be in the same world and next to someone in order to talk to them. PlutoVR opened up a communication line while in VR that was persistent even between changing worlds.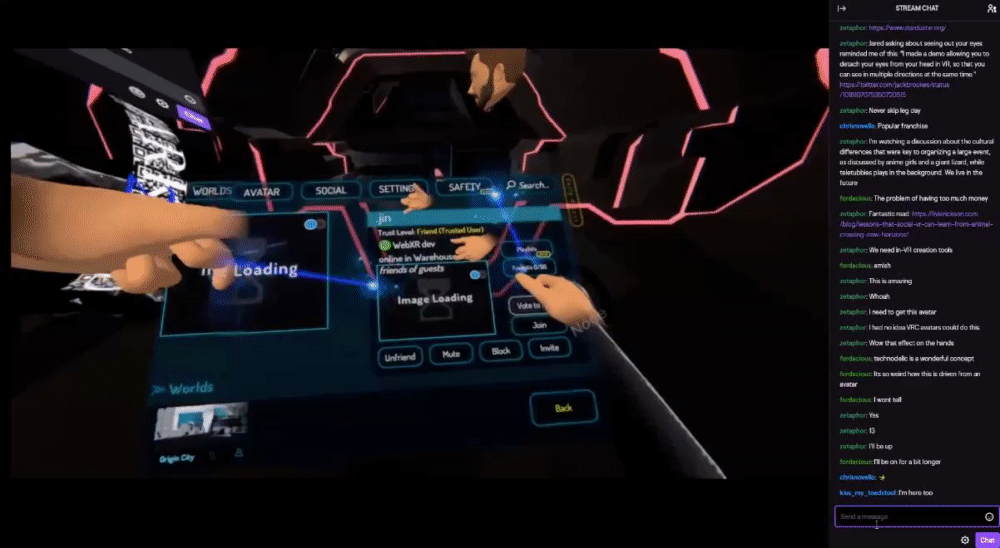 Dark Booth
Dark booth combines a QR code scanner with the concept of an ARG (alternate reality game), like Pokemon Go or Ingress. While people walk around Vket4, the QR code scanner will find and 'absorb' new QR codes.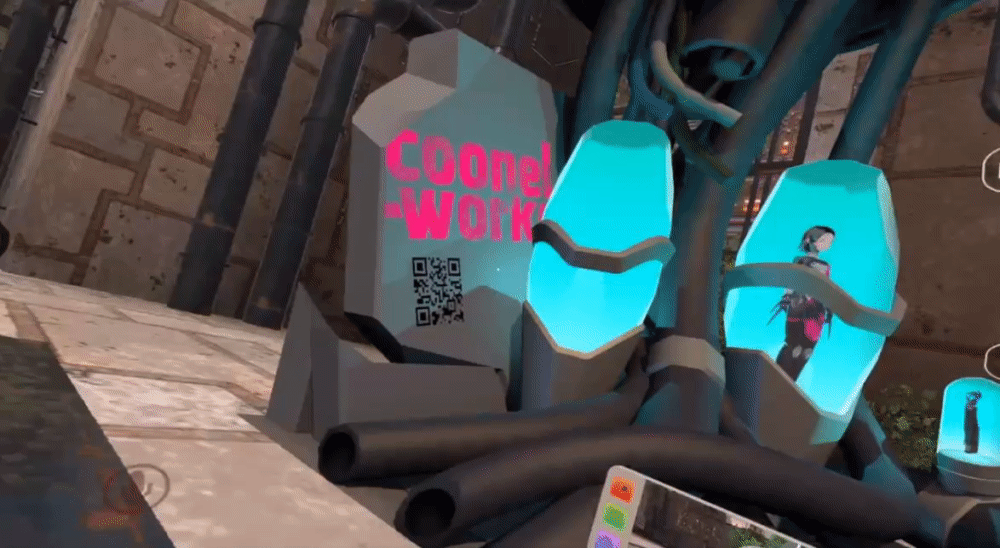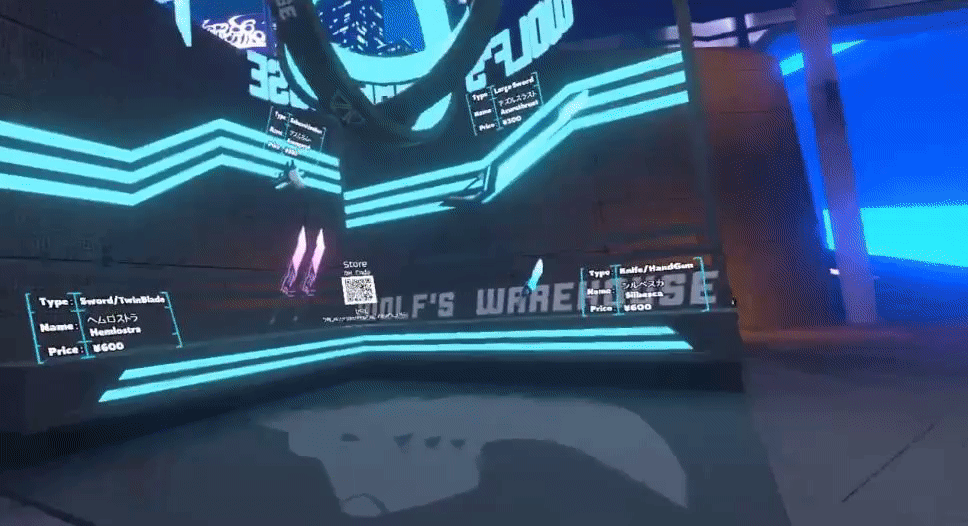 When you finally collect enough 'DARK' a special event happens revealing the dark booth.
---
Notes
Virtual Market Beta has a collaboration feature that automatically distributes the income from sales to the group. This means that the artist designing the merch, 3d modeler creating the booth, and developer helping glue it all together can all share revenue from sales.
Source: https://twitter.com/Virtual_Market_/status/1255436667738927104
---
Post Discussion
Start of video: https://youtu.be/5rWIHBAbyVA?t=7831
What part of Vket4 was inspiring?
The Default Cube was very inspiring to many in the group for its original concept. The last minute decision to add the blobby creature to the cube UX made it more interesting and cute.
The collaboration aspect of Vket was also greatly inspiring. Vket brings together all many artists across different backgrounds into something that fits in a cohesive way. Those 1400 booths are all individually created.
What things for sale surprised you?
Surprised by objects that had objects like chessboards, video players, etc. Thought it was just items or wearables. There was a booth that was just about squatting in VR which apparently belonged to a fitness group.
How do you think the shopping experience is? What's missing?
Some still think the experience is super jank. One interesting part was how many booths let you try on the avatar. The samples are tagged on either the textures or have a floating add-on tag which incentivizes a person to purchase the avatar to have a clean copy. The social experience was very fun, trying on avatars with other people provided a social mirror in a way. It was confusing sometimes to see if a NPC was a sample avatar or not.
Any major noticable differences between this year and Vket3?
Parareal Tokyo felt inaccessible but really well produced. Getting all the top sponsors into 1 world must of been a very challenging feat to satisfy everyone.
What does the future of virtual economies look like?
Do you think such a thing can be organized in the west?
It takes a certain kind of mentality and culture to enforce it for the project to finish. In Japan there isn't much enforcement for people to follow the rules but in the west you do. With platforms like Cryptovoxels there's a large buy in to align folks.
In Japan it's not cool to show your face when streaming. The ethos is very modest when expressing individuality. The cultural dynamic in Japan may create a bigger demand for avatars, see proverb about 3 faces.
How is culture relevant in creating the Metaverse?
It's very important. People like to show off the things that they've earned, collected, or discovered. With systems like Fortnite skins people like to flaunt the loot that they've earned. Showing off your achievements is a part of many video game and online gaming culture.
What problems can't be solved with money?
True love. Having too much money. (jk jk)
Community, you can build a house but won't guarantee people will show up. High Fidelity built amazing worlds but nobody was coming. Meanwhile, Animal Crossing sold 11M copies in 2 weeks.
---
Live Show
There was a live concert that took place in the default cube on the last day of Vket4. Music starts at 3 minutes.
---
Studio Session
We dropped into the NIFTIES studio to discuss Vket4 and practice virutal productions. Might create a public release cut but it was mostly as a test for participating in a virtual event then teleporting into a VR studio to talk about it.
After our conversation, we popped back out into the playa with fresh ideas and insight that we wanted to bring into our own projects. The booths we setup in the Meta District are inspired by Vket.
---
Neos Festa
Images: https://imgur.com/a/x9tsLRA
Website: http://cloudx.azurewebsites.net/open/world/G-Neos-East-Japan/R-b4bce280-e2dc-4fd8-9dcb-472efc0d3cd6
"Future creator festival realized by metaverse" is held!
Here's an example of me approaching a booth and dragging free 'swag' into my inventory. This person left out folders full of particles and gifds that people can spawn in any other neosvr world.
---
Upcoming Events
---
Notes
https://twitter.com/kudoraia/status/1256754981383712771
https://twitter.com/Choobiepatootie/status/1256969221667352579
https://twitter.com/Virtual_Market_/status/1256795618451709953
https://twitter.com/Virtual_Market_/status/1254606716164964352
https://twitter.com/Neomance/status/1255575168904163328
---
Booths
To-do
Collage of the booths from each world
side by side 3D booth with 2D website
Cool supercut of interactive booths
Cuts of pano shots looking at booths